First, read this book: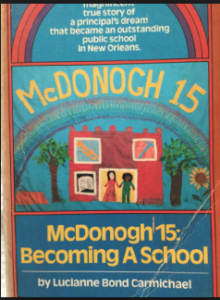 Changemaker/teacher/principal Lucianne Carmichael included morning meeting each day as she envisioned an innovative approach to teach and reach New Orleans public schools at The Little Red Schoolhouse in the French Quarter. Morning meeting was adopted by my elementary school, John Dibert on Orleans Ave. Each day we would gather to celebrate, acknowledge, wish each other happy birthday, good luck. There was art, dance, music, explicit lessons, guests. All stakeholders were present– teachers, students, faculty, administration, parents. The only one who often didn't attend was Ms. Alfred, an enormous heart in the form of a school secretary. Even she would sneak away from phone calls and tasks to join us on special occasions.
I returned to Dibert years later as a first grade teacher with only about six months of teaching experience under my belt. When I returned, despite quite a few changes, there was still my first-fourth grade teachers: Peta Leblanc, Angela Rattler, Linda Swindle, and Myrtis Dennis, and my principal Wiley Ates. There was also morning meeting. Teachers need this connection as much as the kids do, especially novice teachers. I was filled with an enormous sense of pride to have my first graders or the dance team that I sponsored perform for or share their learning for the whole school at morning meeting.
According to Responsive Classroom, Morning Meeting is an engaging way to start each day, build a strong sense of community, and set children up for success socially and academically. Each morning, students and teachers gather together in a circle for twenty to thirty minutes and interact with one another during four purposeful components:
Greeting: Students and teachers greet one other by name.
Sharing: Students share information about important events in their lives. Listeners often offer empathetic comments or ask clarifying questions.
Group Activity: Everyone participates in a brief, lively activity that fosters group cohesion and helps students practice social and academic skills (for example, reciting a poem, dancing, singing, or playing a game).
Morning Message: Students read and interact with a short message written by their teacher. The message is crafted to help students focus on the work they'll do in school that day.