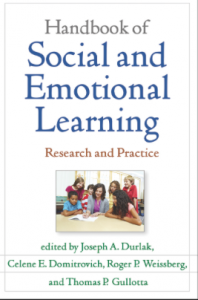 From Dr. Frady:
Chapter 5 The Neuroscience of SEL: "Dozier's Attachment and Biobehavioral Catch Up" intervention helps adult caregivers of young children learn to reinterpret "bad" behaviors as signals that the child is actually asking for help, thus prompting the care giver to respond to "bad" behaviors by offering care rather than punishment (page 75.) This idea supports the Conscious Discipline philosophy I have been studying as I seek new ways to positively "guide" young children's behaviors rather than to "manage" their behaviors.
Chapter 9 SEL Programs for Preschool Children: Young children's cognitive development makes them dependent upon caring adults to offer external SEL support to help young children use self control and behavior regulation. Adults have to allow young children, to "borrow" their own appropriate SEL skills until young children have developed their own (page 137).
---
From Dr. Blady:
Chapter 2
The adults in our SEL community are responsible for modeling emotional skills and positive social behaviors, as well as implementing and supporting programming. This reminds me that we need to first provide the necessary support for the teachers (mindfulness, wellness, open-communication, etc).
Six principles for adult learning (p.24); Malcolm Knowles mentioned. Use this for our own workshops, classes.
Have to monitor impact of an SEL program. See
Chapter 3
We want all students to 'catch character' from those around them, but they need explicit, repeated instruction on how to recognize, understand, label, express, and regulate (RULER) their feelings.
Something for us to consider: Does the growing proliferation of mobile technology offer new possibilities for teaching and learning SEL?
Chapter 27 SEL and Preservice Teacher Ed
According to the National Commission on Teaching and America's Future (2007), teacher turnover costs the U.S. up to $7 billion annually and occurs mostly at low-performing, high-poverty, high-minority schools.
-SEL is definitely embedded in Classroom Management.
Let's review our syllabi from this lens. More SEL-based points in required service learning reflections.
MUST see: http://www.sel4ma.org/ so many resources and ideas for us to use for Louisiana.
Ideas for start of year: http://www.edutopia.org/blog/social-emotional-learning-tips-school-starts